AGILENT 4210 MP-AES
Our Agilent 4210 MP-AES features the best design and torch that is capable of running samples with high total dissolved solids without compromising detection limits. It gives us the ability to quantify metals in aqueous media i.e., in water and sediments samples down to the single parts per billion (ppb)- high resolution and precision. From lithium to uranium, the 4210 has been used as a tool in the majority of our work. We are continually learning and pushing the boundaries of the 4210 capabilities. Contact Prof. Vithanage (meththika@sjp.ac.lk) if your work could be furthered by the 4210.

Digitalised temperature and timer control with the range from 35 °C TO 200 °C a stability 1 °C up to 100 °C with a running time form 1 minute to 9 hours 59 minutes or 99.9 hours. It has a pre-program start time (wait time range) of 1 hour to 24 hours.
AGILENT CARY 60 UV-VIS SPECTROMETER
Our Agilent Cary 60 UV-Vis spectrophotometer allows us to conduct quantitative determination of different analytes. he proven, robust design of the Cary 60 comprises a double beam, Czerny-Turner monochromator, 190–1100 nm wavelength range, 1.5 nm fixed spectral bandwidth, full spectrum Xenon pulse lamp single source with exceptionally long life. Scan rates up to 24,000 nm/min, 80 data points/sec maximum measurement rate and room light immunity. We use the spectrophotometer largely in our work of colorimetric assays, water samples pertaining complex organics and as well as trace elements, such as hexavalent chromium analysis by the diphenylcarbazide (DPC) method and Fe(II)–ferrozine complex analysis.

THERMO SCIENTIFIC SORVALL ST8 CENTRIFUGE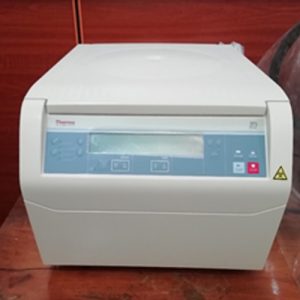 Our has the capacity to centrifuge six samples at 50 mL (fixed angle) or 4 samples at 145 mL (swinging bucket) or 50 mL. It has the maximum capacity of 16,000 rpm (fixed angle) and 4,500 rpm (swinging bucket).
POBEL HYDRO 4.1 WATER STILLS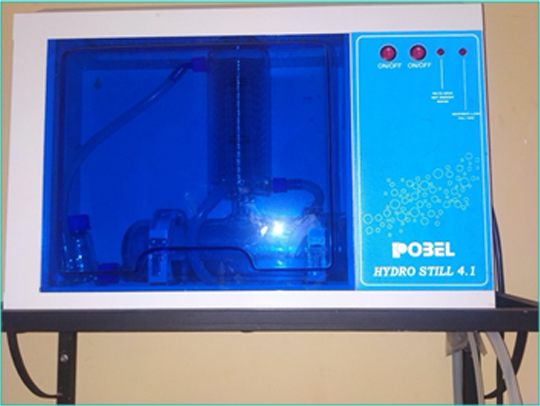 Our distillation unit produces High quality distillation with high purity water and free of metal ions and pyrogens at 4 liter per hour maintaining the designated electrical conductivity at 20ºC  and 1 µS/cm.
BARNSTEAD™ SMART2PURE™ WATER PURIFICATION SYSTEM
Our Smart2Pure™ water purification system convert tap water to ASTM Type 1 and Type 2 water with the compact system, producing 2 or 6 liters of ultra-pure water per hour. The Smart2Pure 3 and 6 feature a built-in 6L reservoir to store the Type 2 water.